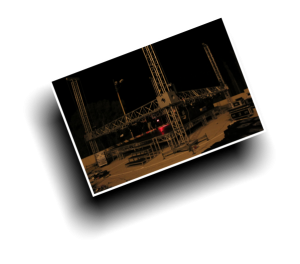 One of our excellent, and guaranteed service is stage rental, we prepare stages for any occasion no matter what it is, cars exhibitions, concerts, conferences, fashion shows, and exhibitions.
As for the stage, it's made from Aluminum with Truss System, it has a very high degree of endurance carrying a weight that reaches to 790 kilograms on each one meter, it can be raised up to any height we need, and we prepare it in any size, any shape, and any design you need with the highest quality ever.
We offer also a stage design service with 3d animations using the latest MSD (Martin Show Designer)  Gold Edition, so you will be able to see your stage in 3d animations, before we actually build it.
Without forgetting to mention that we design the stage to be perfectly fitted for any kind of dancing even Dabke, because the most important thing for us is your safety, we have our special safety engineer that checks the stage before the event to make sure that it fits the standards.